Travelling to Valladolid
Valladolid is about 200 km. northwest from Madrid. The best way to reach Valladolid from abroad is to:
Fly to Madrid's "Adolfo Suárez-Barajas" airport
Go to the Madrid Chamartin train station
Take a high-speed train that will leave you in the Valladolid city center in about an hour.
The details depend on the airport terminal you have arrived to:
Option A: From
Barajas Terminal T1, T2 or T3

to Chamartin Train Station.

From Terminal 1, 2 or 3, the most convenient way to go to Chamartin Train Station is by metro:
From the airport, take Line 8 towards "Nuevos Ministerios".
In "Nuevos Ministerios" station, switch to Line 10 towards "Hospital Infanta Sofía".
Leave the metro in "Chamartin" station.
Here you can see the route. It takes around 30 minutes.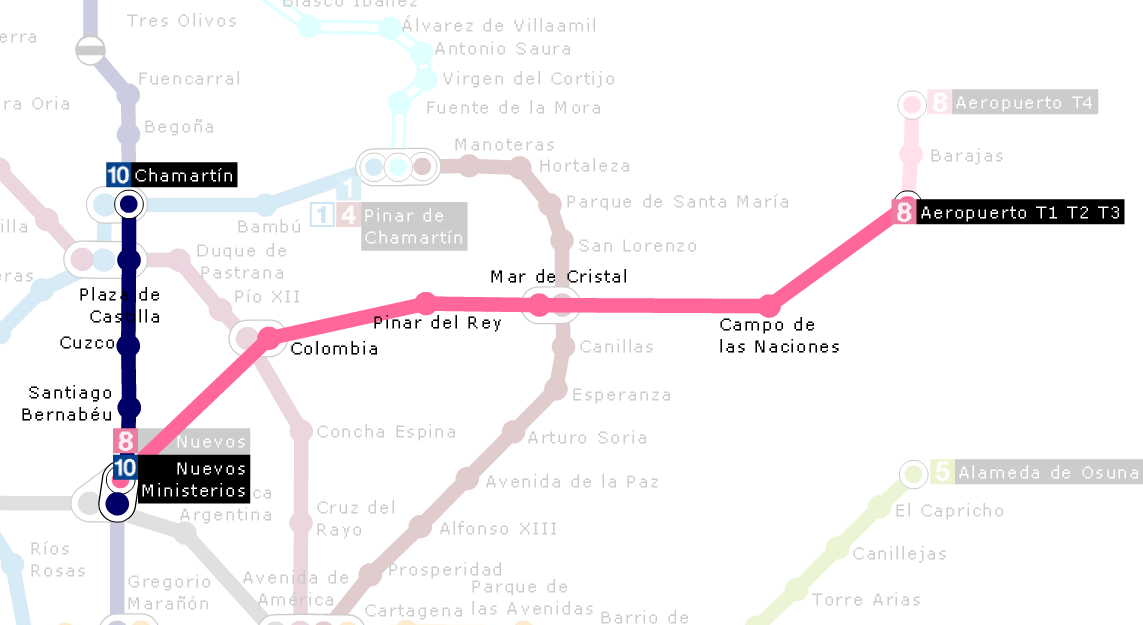 Option B: From
Barajas Terminal T4

to Chamartin Train Station.

In this case, the most convenient way is to take the "Cercanias" Train managed by Renfe (the Spanish railway company), that connect Terminal 4 with Chamartin Train Station in around 11 minutes. The trains depart each 30 minutes, and the Renfe train station in Terminal 4 is near the Metro station  (a detailed explanation can be found here) . The ticket costs around 1,70 euros.

You can also take the Metro, in this case departing from the "Aeropuerto T4" metro station (see the map above), but it is slower and more expensive.
About the high-speed trains that connect Madrid (Chamartin Station) and Valladolid
There are many high-speed trains (collectively known as AVE, but with other names such as ALVIA, AVANT or INTERCITY, depending on their particular model) that connects Madrid and Valladolid in around one hour. The ticket costs about 30..40 euros. You can buy online tickets here. Be aware that the MD (Media Distancia) train is cheaper, but it takes almost three hours to arrive to Valladolid, so it is better to avoid it.
It is very convenient to buy the AVE tickets in advance.  It is also a good idea to include a safety margin (around 1:30 or 2:00 hours) between the plane expected landing time and the AVE departure time, and the other way around.